PROFILE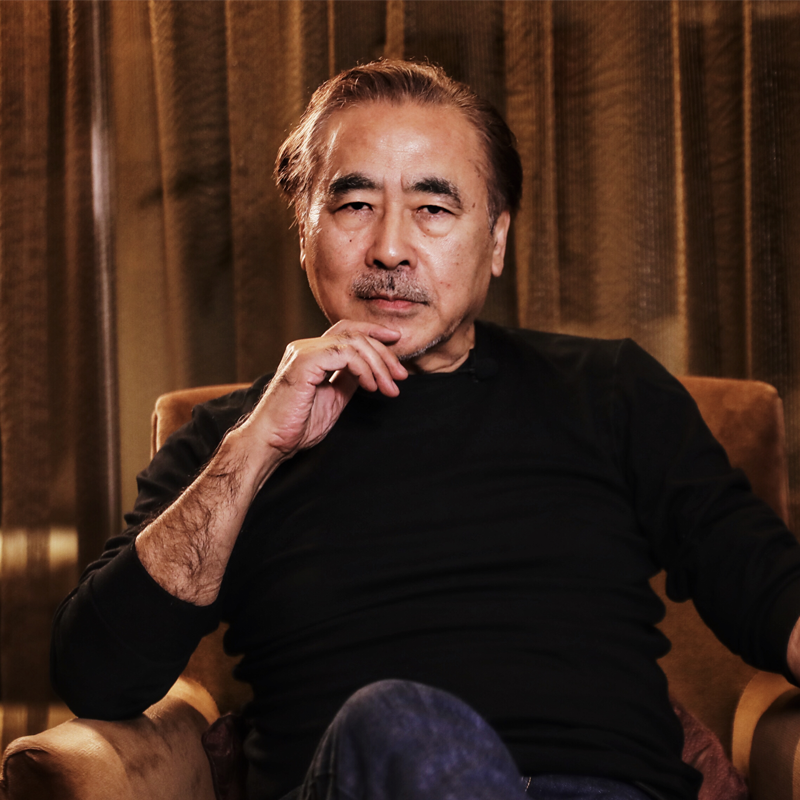 Yoshitaka Amano
YOSHITAKA AMANO
Painter, character designer,
Illustrator and book designer.
Also involved in performing arts and costume design.
Born in Shizuoka City in 1952
Joined Tatsunoko Production, an animation production company in 1967.
Worked on character design for anime such as "Time Bokan" under the name of Yoshitaka Amano
In charge of logos and image illustrations for the "FINAL FANTASY" series since 1987
In charge of performing arts for "Yang Guifei" in 1992
1993 Released the video work "Yoshitaka Amano-The World of Brilliant Illusionary Beauty"
In charge of stage art and costume design for "Kaijin Bessou" in 1994
In charge of costume design for the 2001 movie "Onmyoji"
In charge of directing the 2007th night of the 7 movie "Ten Nights of Dreams"
AWARDS
1983-
1986 14th-17th Seiun Awards
2000 Eisner Awards: "THE SANDMAN: The Dream Hunters" (collaboration with Neil Gaiman)
2000 Dragon Con Award, Julie Award
2007 38th Seiun Award
2018 Inkpot Award (Comic Con 2018)
WORKS
Solo exhibition
1989 "Hiten" Yurakucho Marion (8.18-22) / Tokyo
1991 "DAWN" Omori Bellport Atrium (8.29-9.1) / Tokyo
"Sublimation" Kanazawa City Culture Hall (7.26-30) / Kanazawa
1994 "Ranpo, Arabian Nights, and the World of Final Fantasy" Yurakucho Marion (8.5-17) / Tokyo
1995 "Characters" Yurakucho Marion (8.9-20) / Tokyo
Muséum des Sciences Naturelles (1.27-2.5) / Orleans France
1996 "Animation World" Yurakucho Marion / Tokyo
1997 "THINK LIKE AMANO" Puck Building (11.10-17) / New York
Yurakucho Marion (7.30-8.17) / Tokyo
1998 "1001 NIGHTS" Dorothy Chandle rPavillion (4.30-5.3) / Los Angeles
Brussels International Fantastic Film Festival (3.13-28) / Brussels Belgium
"THINK LIKE AMANO" Ueno Royal Museum (9.29-10.11) / Tokyo
"Celtic Fairy Fantasy" Kimie Imura Fairy Museum (8.1-10.11) / Fukushima
1999 "Hero" Angel Orensanz Foundation (10.6-31) / New York
"Fantasy of Moonlight" Kimie Imura Fairy Museum (9.21-11.6) / Fukushima
2000 "Yoshitaka Amano, the world of fairy tales" Kimie Imura Fairy Museum / Fukushima
2002 Leo Koenig, Inc. (6.25-8.3) / New York
Médiathèque de Cavalaire-sur-Mer (6.1-7.28) / PACA France
2003 "Goldfish Princess and NY Salad" Kimie Imura Fairy Museum (August-October) / Fukushima
"The works" Galerie Michael Janssen (3.21-5.24) / Cologne Germany
The Happy Lion Gallery / Los Angeles
2004 Galerie Edward Mitterand (12.9-2005.1.22) / Geneva Switzerland
"M" Kunstverein Heilbronn (10.24-12.5) / Heilbronn Germany
"New works" Galerie Michael Janssen (9.3-10.16) / Cologne Germany
"Recent works" Galerie Patrick De Brock (3.7-4.5) / Knock Belgium
2005 "Maniera" Ueno Royal Museum (5.3-5.10) / Tokyo
"Alimentation Générale" Galerie Nosbaum & Reding-Art
Contemporain (3.3-4.16) / Luxembourg
2006 "Eye on Amano" Festival Walk (8 / 17-9.3), Art Statements Gallery (9.4-10.14) / Hong Kong
"Yoshitaka Amano: Le monde de l'Animation" Le Baladoir de L'Espace Bonlieu / Annecy France
2007 Galerie Nosbaum & Reding-Art Contemporain (5.24-7.28) / Luxembourg
2008 "DEVA LOKA, Rouge & Bleu" Art Statements Gallery (9.4-11.20) / Hong Kong
"Yoshitaka Amano-NYSALAD Fairy Painting Exhibition-" Utsunomiya Fairy Museum (7.31-8.31) / Tochigi
"DEVA-LOKA" Galerie Michael Janssen (1.18-2.29) / Berlin
2009 "Flying to DEVA LOKA" Metaphysical Art Gallery (11.7-29) / Taipei
"Amano Galaxy" Omotesando Hills (8.26-31) / Tokyo
"DEVA LOKA USA" SUPERFROG Gallery (8.15-11.8) / San Francisco
2010 "DEVA LOKA" Art Statements Tokyo (11.17-2011.1.22) / Tokyo
Galerie Nosbaum & Reding-Art Contemporain (11.11-2011.1.8) / Luxembourg
"Rêves et portraits" Galerie Petits Papiers & Maison Autrique (9.17-2011.1.31) / Brussels Belgium
"The World of Wonders / The World of Wonders" Fengkou Museum (8.7-9.19) / Taipei
"DEVA LOKA" LeBasse Projects (2.10-3.13) / Los Angeles
"Hero" MOCA Studio (1.22-3.7) / Taipei
2011 "Yoshitaka Amano: FOR JAPAN" SUPERFROG Gallery (6.18-7.9) / San Francisco
2012 "DEVA LOKA Redux" Art Statements Gallery (11.22-2013.2.20) / Hong Kong
2013 "TOKYO SYNC" Mizuma Art Gallery (11.27-2014.1.18) / Tokyo
"Mythopoeia" Mizuma Gallery (6.7-7.14) / Singapore
2014 "Yoshitaka Amano Exhibition: A World Beyond Imagination" Kumamoto Contemporary Art Museum
2015 "Yoshitaka Amano Exhibition: A World Beyond Imagination" Kawara Museum
2015 "Yoshitaka Amano Exhibition A World Beyond Imagination" Hyogo Prefectural Art
2016 "Yoshitaka Amano Exhibition: A World Beyond Imagination" Grand Front Osaka North Building Knowledge Capital Event Lab
2017 "Yoshitaka Amano Exhibition: A World Beyond Imagination" Fudenosato Kobo (Hiroshima) and other nationwide tours
2018 "FINAL FANTASY and Yoshitaka Amano's World Exhibition" Sunshine City (Tokyo)
2018 Mizuma, Kips & Wada Art Opening Memorial Yoshitaka Amano Exhibition "DEVA LOKA" (10.13-11.18) / New York
Group exhibition
1992 "Fantasy Land" Communications Museum (11.8-23) / Tokyo
"Bishonen Exhibition for Girls" Yayoi Museum (4.2-6.28) / Tokyo
1995 "Fantasy RPG Illustration Exhibition" Shiga Prefectural Museum of Modern Art (1.5-2.19) / Shiga
1998 "Fairy World Exhibition" Daimaru Museum (2.11-23) / Tokyo (Circuit: Kobe, Kyoto)
2002 "Game On" Barbican Galleries, Barbican Art Center (5.16-9.15) / London
2004 "Funny Cuts" Staatsgalerie (12.4-2005.4.17) / Stuttgart Germany
"Yoshitaka Amano-Andre van de Wijdeven" Galerie Tanya Rumpff (6.4-27) / Haarlem Holland
"Dessins et des Autres-Part2" Galerie Catherine Bastide (5.13-6.13) / Brussels Belgium
"Dessins et des Autres" Galerie Anne de Villepoix (1.22-2.28) / Paris
"Rodolphe Janssen feat. Michael Janssen" Galerie Rodolphe Janssen (1.8-2.7) / Brussels Belgium
2005 "10 Years!" Galerie Michael Janssen (10.29-12.22) / Cologne Germany
2006 "Fiction @ Love" MoCA Shanghai (1.7-3.26) / Shanghai
2007 "3L4D" Metaphysical Art Gallery (10.20-11.8) / Taipei
"Animamix: From Modernity to Eternity" MoCA Shanghai (10.14-11.4) / Shanghai
"Comix" Kunsthallen Brandts (9.22-2008.1.6) / Odense Denmark
2008 "Manga! Japanese Images" Louisiana Museum for Moderne Kunst (10.8-2009.2.8) / Humlebaek Denmark
"Anime! High Art-Pop culture" AMPAS / Academy of Motion Picture Arts and Sciences (5.15-8.23) / Los Angeles
"Anime! High Art-Pop culture" Deutsches Film Museum (2.27-8.17) / Frankfurt, Germany
2009 "Eve: Yoshiki Hishinuma + Yoshitaka Amano" Opera / Paris
2010 "Kyoto-Tokyo, from Samourais to Mangas" Grimaldi Forum (7.14-9.12) / Monaco
"Eve: Yoshiki Hishinuma + Yoshitaka Amano" Kiyomizudera (5.15-6.6) / Kyoto
2011 "Anime! High Art-Pop culture" Bundeskunsthalle (7.29-2012.1.8) / Bonn Germany
2012 "4 Artists Participating in the 55th Venice Biennale" Art Statements Gallery (4.25-5.25) / Hong Kong
"Paper does not blush" Galerie Michael Janssen (1.28-3.3) / Berlin
2013 "Yoshitaka Amano x HYDE Exhibition Mandate and Immorality ~ NIPPON EVOLUTION ~" Laforet Museum Harajuku (8.9-31) / Tokyo (Course: Osaka)
"Personal Structures" Palazzo Bembo (6.1-11.24) / Venice Italy
2014 "Archipelagoes" Mizuma Gallery (1.10-26) / Singapore
"Impacts! Momentum-Japan Art Festival" Zane Benette Contemporary Art (7.25-9.22) / Santa Fe America
2019 "Rough ∞ Picture" 3331 Arts Chiyoda (Tokyo) and others
2019 `` Minna no Mucha From Mucha to Manga-The Magic of Lines'' Bunkamura The Museum (Tokyo) and others